Checkpoint has a dedicated goal, to fight ransomware globally.
This mean that Checkpoints consumer solutions, Zonealarm, benefits from the research done a Checkpoint.
Antivirus is dying (if not already dead) but threat emulation is one path towards the future.
Zonealarm Anti-Ransomware have released an affordable solution, based on Chekcpoints Anti-Ransomware product.
The price is the best part… at the current time of writing, Anti-Ransomware is priced at $1.99/month. (about 13 DKR)
The low price makes it very affordable in my opinin.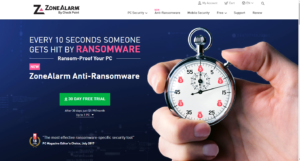 I bought a license for 3 pc, and installed the Anti-Ransomware agent last Thursday (12/10-2017) – and boy am I glad I did.
Today I was working with password cracking software, and at some point I have downloaded some software containing Ransomware. (I know, its my own fault...)
Moments after, the Checkpoint/Zonealarm Anti-Ransomware agent, informed me that something was very wrong…
The Anti-Ransomware agent looks like this, when everything is great, and when everything is not so great…
I of cause choose to "Repair file" which triggered the agent to delete and restore…
Be aware, that the computer will reboot several times, so you need to be patient. At some point I noticed that my mails from April and till now was gone…   this of cause got me worried, so i contacted Zonealarm support. The most disturbing about the experience, was that the Zonealarm agent also was missing, and nowhere to be found.
It was even missing in Control Panel > Programs.
Apparently this is what it is suppose to do…  after rebooting again, and waiting 10-15 minutes for the computer to "Prepare windows for use" everything was back to the way it was suppose to be.
Mails that was missing was back, Zonealarm were visible in "Programs" and my desktop looked like it did this morning.
Even if it was a bit scary, and I could wish for some visual "steps for recovery" on the Zonealarm Agent, it turned out fine.
I would deffently recommend you to give the product a try….    could save the day at some point!